Home
Talk

2
95pages on
this wiki
Welcome to the Nyan Koi! Wiki
Nyan Koi Wiki is a community site that anyone can contribute to. You can help us with contributing!
Check out our short pages and wanted pages to see where you can help.
3,347 edits to 95 articles since January 2010.
Synopsis
Junpei Kousaka is a second-year high school student who despises cats and has an allergy to them. It just so happens that his high school crush is Kaede Mizuno is a girl who adores cats.
One day, while walking home from school, Junpei kicks an empty can and unfortunately decapitates the local neko-jizou-sama (guardian deity of cats).
He finds he can now understand what cats are saying, including his family's own ill-tempered cat, Nyamsus. However, if he does not grant 100 wishes from cats, he will turn into a cat himself.
As he lives his normal life he must complete the requests of the cats which makes him have a deeper relationship with the people in his life.
Featured Character
Junpei Kousaka, finds out that he was cursed by the local neko-Jizou.
What happens after that?
Featured Feline
We love everything about cats in Nyan Koi!
Check out Michi and his crush!
Help Out
To start a new article, just enter the article title in the box below and click Create New Article
Poll
Who is your favourite female character of Nyan koi?
Did You Know?
Every year, nearly four million cats are eaten in Asia.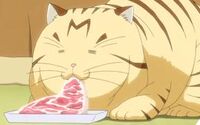 A group of cats is called a "clowder."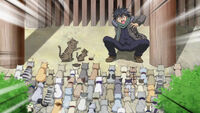 On average, cats spend 2/3 of every day sleeping. That means a nine-year-old cat has been awake for only three years of its life.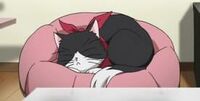 Flag Counter